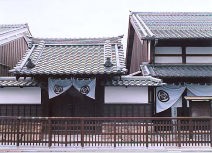 In 1601, the Shogunate Government of Edo established fifty-three stations along the Tokaido Road between Edo(present Tokyo) and Kyoto, the ancient capital.
Futagawa Syuku was the thirty-third station numbering from Edo. It was composed of Futagawa and Oiwa towns. According to the records in 1820, the main road through this Syuku was about 1.3kirometers long and both towns had a population of 1289( 666 males and 623 females). Futagawa Syuku had also a transportation office, an officially appointed inn(Honjin) for the feudal lords(Daimyo) and other noblemen, a sub inn(Waki-Honjin), and thirty-eight inns for travelers. Even today structure of ancient town and some old houses can still be seen along this section of the road.
The Honjin is few existence on the old Tokaido Road with Tanaka's Honjin of Kusatsu City in Shiga prefecture.
In 1985, Mr Happeizo Baba, the Honjin's keeper, contributed the Honjin to Toyohashi City for the preservation and practical use of this valuable historical property. Then, Toyohashi City officially declared the Honjin as a historical monument in 1987. In 1988, it started repairing work of the Honjin and new construction of the exhibition hall by useness of this historical monument as a museum connected with transportation in the Edo period.
The Honjin Museum of Futagawa Syuku was opened to the public on August 1,1991. The regular exhibits of the exhibition hall are divided in three themes: the Tokaido Road, the Futagawa Syuku, and Honjin, and the special exhibitions are held temporarily.
The Honjin is now opened to the public. Visitors may observe all areas of the Honjin including the "Jodan no ma" where the Daimyo and other noblemen stayed. The atmosphere of the Edo period has been carefully preserved in the Honjin and visitors will feel the conditions of noble life in the Edo period.
Leaflet Download